What Should I Do About Achilles Tendinitis ?
Overview
Achilles tendonitis (tendinitis), is a painful and often debilitating inflammation of the Achilles tendon than can progress into degeneration which we call Achilles Tendinosis. The Achilles tendon is the largest and strongest tendon in the body. It is located in the back of the lower leg, attaches to the heel bone (calcaneus), and connects the calf muscles to the heel bone. In most cases, Achilles tendonopathy's are overuse injuries are more common among athletes and people who train heavily, however it can also occur in people who are less active. Achilles Tendonitis can vary in severity from a mild pain in the tendon during a particular activity to more severe cases when any form of activity that puts strain on this ligament, even standing or walking, can cause pain.
Causes
A lot of stress on the feet is the cause of Achilles tendinitis. It is a common athletic injury. Things that can cause tendinitis include, pushing your body too fast and too soon, sudden increase in activity, sports that cause you to quickly start and stop, poor fitting shoes, bad footwear, severe injury to the Achilles tendon, running or exercising on uneven ground, running uphill, tight calf muscles, bone spur (extra bone growth in heel that rubs the tendon and causes pain), flat arches, feet that roll in (overpronation), and weak calf muscles, not warming up before exercising.
Symptoms
The primary symptom of Achilles tendon inflammation is pain in the back of the heel, which initially increases when exercise is begun and often lessens as exercise continues. A complete tear of the Achilles tendon typically occurs with a sudden forceful change in direction when running or playing tennis and is often accompanied by a sensation of having been struck in the back of the ankle and calf with an object such as a baseball bat.
Diagnosis
During the physical exam, your doctor will gently press on the affected area to determine the location of pain, tenderness or swelling. He or she will also evaluate the flexibility, alignment, range of motion and reflexes of your foot and ankle. Your doctor may order one or more of the following tests to assess your condition, X-rays. While X-rays can't visualize soft tissues such as tendons, they may help rule out other conditions that can cause similar symptoms. Ultrasound. This device uses sound waves to visualize soft tissues like tendons. Ultrasound can also produce real-time images of the Achilles tendon in motion. Magnetic resonance imaging (MRI). Using radio waves and a very strong magnet, MRI machines can produce very detailed images of the Achilles tendon.
Nonsurgical Treatment
The first thing to do is to cut back your training. If you are working out twice a day, change to once a day and take one or two days off per week. If you are working out every day cut back to every other day and decrease your mileage. Training modification is essential to treatment of this potentially long lasting problem. You should also cut back on hill work and speed work. Post running ice may also help. Be sure to avoid excessive stretching. The first phase of healing should be accompanied by relative rest, which doesn't necessarily mean stopping running, but as I am emphasizing, a cut back in training. If this does not help quickly, consider the use of a 1/4 inch heel lift can also help. Do not start worrying if you will become dependent on this, concentrate on getting rid of the pain. Don't walk barefoot around your house, avoid excessively flat shoes, such as "sneakers", tennis shoes, cross trainers, etc. In office treatment would initially consist of the use of the physical therapy modalities of electrical stimulation, (HVGS, high voltage galvanic stimulation), and ultrasound. Your sports medicine physician should also carefully check your shoes. A heel lift can also be used and control of excessive pronation by taping can also be incorporated into a program of achilles tendonitis rehabilitation therapy. Orthotics with a small heel lift are often helpful.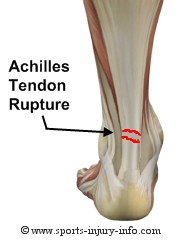 Surgical Treatment
If non-surgical approaches fail to restore the tendon to its normal condition, surgery may be necessary. The foot and ankle surgeon will select the best procedure to repair the tendon, based upon the extent of the injury, the patient?s age and activity level, and other factors.
Prevention
Maintaining strength and flexibility in the muscles of the calf will help reduce the risk of tendinitis. Overusing a weak or tight Achilles tendon makes you more likely to develop tendinitis.